WELCOME TO


Site Info @ LightSeed.com

LightSeed.com
>
Self-Empowerment Center
>
Site Info
> Featured Products
Featured Products
"The ultimate purpose of visionary business is to transform the world by doing what you love to do."
Marc Allen

We here at the Self Empowerment Center @ LightSeed.com believe that we are bringing you an exciting array of products all "kitchen tested" and people approved. It's clear "times are changing" and alternative products are proliferating. Even more confusing is the corresponding information explosion concerning new ideas and products. At the Self Empowerment Center @ LightSeed.com we have a strong interest in serving those that are experiencing a more rapid or deeper change in order to keep up with life's challenges.
We want to bring more fun, positive growth, self compassion and feelings of aliveness to our customers. In order to best serve that goal we have gathered together an array of fine quality, truly useful products. We then grouped these products into categories in our shops to organize the information for your shopping ease and comfort.

We hope to offer you a certain clarity based on many years of hands on experience and experimentation. Although we allow that there are many great products out there that we haven't tried, we have found amazing tools and products that work remarkably well. We are excited to be part of a shift that's happening toward integrity and vision in the business arena. We come to you out of a strong desire to be of service and offer products to create win-win scenarios.
October: A MONTH OF CHANGES"The fates lead him who will - him who won't, they drag." Seneca

When I think of October I think of the trees changing color, morning frost and the the warmth of the afternoon sun. Getting outdoors encapsulates the essence of October. October is the time for things to change. Here in New England we have the great forests, this time of year they all begin to change. The days are shorter and cooler the world is inviting us to go inward and be more introspective. I always feel a little loss of the wartmth and activity of the summertime in October and an anticipation of the winter snows to come.
Growth is encoded into nature. It always brings on increased activity and change. To embrace the spirit of October we suggest a few strategies that work well. The first is to examine your life and determine what you need to do to involve and grow. Get beyond your old habits, and identity. Growth and change can be relatively speedy if we cooperate by letting go of that which slows our progress. The other principle is to open to vulnerability and loving expression. In my personal experience all growth results from finding your excitement and giving it full expression.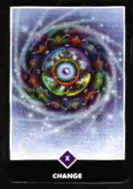 For the month of October we want to emphasize opening up to growth and change. Find your leaves let them change color and let them go. To assist you in this process we have gathered together some tools and products that really can assist you
in opening your heart to all the good feelings and new possibilities that growth brings us. May they guide, uplift and inspire your process!
To assist you in this process we have gathered together some tools and products that really will help you extend your influence out into the world and make the changes needed for that to happen. May they help you to gently self motivate and open to your senses.

Our SOLUTIONS SHOP offers high quality alternative products which bring relief and ease in gentle ways. These products operate at the level of energy and for that reason can often bring deep and permanent change.

Physics tells us that the underlying structure of things is energetic; therefore if you create change at the level of the patterned structure, positive change unfolds in many delightful and unpredictable ways. We have developed our Acorn Solutions, a blend of vibrational remedies in the service of actual people with true life problems. We know they work and we provide you with high quality information in the form of individual product descriptions, written to inform as well as guide a purchase.

We also provide the articles entitled Getting the Most Out of Your Flower Essences and Vibrational Healing an Overview to assist you as you to get the most out of your purchase.
We made two selections to assist any heart opening process. These are both flower essence blends that assist the heart process by affecting the heart chakras, the part of the human energy field that is capable of connecting with the divine.
Grief Relief Blend The first selection to assist any heart opening process is our Grief Relief Blend. This blend is designed to flush stuck energy related to grief out of the heart. Grief is often felt as one or more of the following, persistent sadness, heaviness in the chest, difficulty breathing and fatigue. To learn more about our blends please visit our SOLUTIONS SHOP.
For the Month of October we offer this blend at a 25% reduction in price Regularly $20 Save $5 during the month of October only $15.
Grief Relief Blend comes in a one-ounce cobalt blue dropper bottle. $15

More...
To learn more about how to release the negative energy of grief, please visit our ARTICLES section and look for the article entitled Letting Go of Your Grief.
Heart Words Blend is the other blend we suggest for October Heart Words Blend opens the heart creating more warmth in that area. In addition it helps to synchronize the speech with the heart. It becomes easier to know what the heart wishes to express and to get the words out. To learn more about our blends we invite you to visit our SOLUTIONS SHOP.
For the Month of October we offer this blend at a 25% reduction in price or $15.
Heart Words Blend comes in a one-ounce cobalt blue dropper bottle. $15

More...
In the BOOKS SHOP we have brought together some of the most therapeutic and inspiring books on the market today. These books have proven they do help people over years of experimentation. Each book description is written to inform you and enhance your self understanding in some way. So even if you don't want to shop today the descriptions will "feed" you in many ways.

Couple's Comfort Book: A Creative Guide for Renewing Passion, Pleasure and Commitment by Jennifer Louden.
To open the heart and feel some freshness we suggest two picks this month. The first book is for those in relationship who want to deepen their heartfelt connection in creative and effective ways. It is called the Couple's Comfort Book: A Creative Guide for Renewing Passion, Pleasure and Commitment. This book is an effective tool for creating a warm and safe heart space in your relationship.

More...
To learn more about how we can dissolve the barriers to love please visit our SOLUTIONS SHOP.
Becoming Your Higher Self by Sanaya Roman and Duane Packer
Our second pick is Becoming Your Higher Self by Sanaya Roman and Duane Packer. This book teaches the reader how to align with their soul or Higher Self. This means to also align with higher and more complete understandings about the nature of love. It also means becoming more open to both giving and receiving love.

More... To learn more about the heart warming work of Sanaya Roman please visit our BOOKS SHOP
The TAPES SHOP has a collection of powerful and lovingly written and executed tapes by many experts and overall great folks. Please don't over look the value of absorbing information comfortably while driving, bathing, or even knitting. For those who find reading less then optimal or for those who process better in auditory modes, books on tape can be a God send. You can listen again and again until you have absorbed all you need.

This is a fantastic solution to wasted time in traffic. If you haven't tried audio tapes, we strongly recommend giving them a shot... they are such a pleasant non-stressful way to take in new ideas. You can replay something three or more times until you deeply and painlessly get it. We also offer tapes that perform specific functions such as enhance breathing, assist your sleep, relaxation and release of muscular tension.
Sacred Fire by John Welwood
The first tape set we recommend this month is called Sacred Fire by John Welwood. This two tape set demonstrates new ways to think and act, that produce more heartfelt connection in relationships. Although this set is mostly about romantic love the information applies to all important relationships as well. This is an eye opening new approach to breaking habitual and self defeating relationship patterns. To learn more about Sacred Fire please visit our Tape Shop.

More...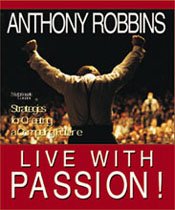 Live with Passion!
Stop Waiting and Start Living with Passion! by Anthony Robbins
Anthony Robbins is a fine motivator. He is ingenious when it comes to waking up a feeling of having the force within. That is because the man is a powerhouse. He is very focused, realistic, and inspiring. Live With Passion! will help you to get in touch with your inner powerhouse. We think his passionate energy and intelligence will move you to create deep level change and aliveness.


Somatics
Somatics is a body of knowledge that literally releases deeply held muscle tension. It retrains the brain to control both tension and relaxation. When you tense for activity you can summon what you need. When it's time to let go and relax you can turn off an inner switch.
Somatics will pull the pain and chronic tension right out of you. It involves following instructions while tuning inward. The set entitled Somatics - Neck, Jaw and Skull is for releasing tension from the shoulders, throat, neck, scalp and skullcap. The flood of positive chemistry this produces is unique. You can feel effervescent sensations as well as feelings of spaciousness or openness.
Somatics - Calm and Energize is a single tape to help you open the throat, lungs, and chest cavity. This releases the ribs to function individually rather than like a stiff washboard. For people who know they breathe poorly, or for those who feel a band around the ribs which doesn't allow much air in this is the definitive solution.

More...
Somatics - Freeing the Whole Body is a comprehensive set of exercises that will produce deep level change in your entire muscular structure. Bathe in the tingling, bubbling, and warmth they produce in your body. Enjoy the new found flexibility that these tapes provide!

More...
From the body of knowledge known as Somatics we offer tapes that will actually allow you to release tightness, aching and creakiness that slows you down and depresses the spirit.

More...





We offer a TOOL SHOP which features tools for exploring your own self,

for example a number of card systems. These integrated sets usually contain both cards and a book designed to help you contact inner being. These systems really work as they inform you in various special ways, from a deeper level.

Tarot of the Spirit by Joyce Eakins
This month we are suggesting one of the most light filled tools available. Tarot of the Spirit is a book and card set that uplifts the heart and calls out the best in us. I get so much heart sustenance from my set that I wanted to call attention to it and suggest it's use to open the heart, especially to open to our soul's design for our life. To seriously explore this tool is a deep journey and it is filled with self discovery and growth. As I work with this set I can literally feel angelic energy drawing closer.

More...
To learn more about our selection of other tools please visit our TOOL SHOP.
The MUSIC SHOP offers music that is employed in deep explorations of the psyche. This music tends to attune the listener in certain ways. For example a certain piece may be very helpful in contacting deeply held grief in order to release it. In the Music Shop we explain the uses for everything we offer. Try using music to assist in meditation, inner journeying, and emotional release!

Our musical picks for the month of October are two selections by Ray Lynch, called No Blue Thing and Deep Breakfast. This music deeply affects the heart by causing a resonance in the heart for many people. It opens, uplifts and inspires. To me I always think of it as music that feeds the soul. This music is great background for important communications or while reading or working with Tarot of the Spirit. It is a very clean and pure sound.
No Blue Thing by Ray Lynch

Deep Breakfast by Ray Lynch

More...
To learn more about the variety of music we feature please visit our MUSIC SHOP.
The Relaxation Shop is a collection of products that truly work to bring about deep release of tension and contraction. There is a high quality article simply named Relaxation to help you make informed choices.
For the month of October we are recommending a special tool called the Theracane. We proudly and confidently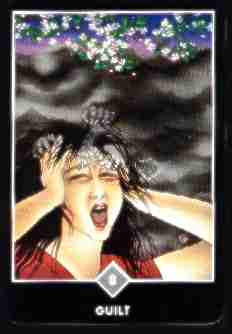 offer the Theracane an amazing tool for reducing muscular tension wherever it exists in your body. The Theracane is a tool that allows you to explore and release achy pockets within the muscular system. It is very likely that it clears the energy and emotional levels of being as well. Alan who is a cofounder of LightSeed.com used a Theracane for nearly a year, periodically releasing grief and sadness from his system.

more...
So little is generally known about this vast subject, to learn something new you must seek out the experts like we did here at the Self Empowerment Center @ LightSeed.com. So join in the benefits of what we have learned from research and new methods of achieving deeply felt bodily relaxation; which translates into a feeling of safety and well being. Learn how to turn "bad" stress into "good" stress.

Lastly is our Explorations Shop which is still under construction. This is sparse for the moment but will eventually offer only the highest quality cutting edge information and products on more far out subjects. The Explorations Shop is dedicated to honoring the explorer in each of us and the world around us.
A suggested affirmation for times of transition:


"I can trust the universe by embracing change."

Relaxation is a process to bring about deep release of tension and contraction. There is a high quality article simply named Relaxation to help you make informed choices. We suggest examining any beliefs that might limit you from relaxing. To bring about positive changes and open to new views we suggest visiting our ARTICLES section and reading whatever may speak to you at this point in your journey .
We invite you to join us and allow the nourishment to touch your life. Our product descriptions are based on actual experiences and the explanations are designed to provide useful information. We hope you will learn about our products and the the many aspects of Self Empowerment and enjoy your visit with us here in our virtual shops at the Self Empowerment Center @ LightSeed.com.
Previous

LightSeed.com "Seeding positive change."

Next

And, hey, if you feel inspired, drop me a line at Bobbi@LightSeed.com
Or write to me at LightSeed.com P.O. Box 695 Griswold CT 06351
It's always good to hear from fellow online seekers, healers and explorers.
Ordering Call Toll-Free 1.888.407.8456