Self Empowerment Center
WELCOME TO

Books @ LightSeed.com


LightSeed.com > Self-Empowerment Center >Books > Awakening in Time
Awakening In Time
The Journey from Codependence to Co-Creation
by Jacquelyn Small
I trained with Jacquelyn Small during the period she was writing Awakening in Time. Again and again, I saw it's practical application in my training. This information is solid gold. The main contention of the book is that codependency is a distortion of our natural desire to merge with our own higher being. We displace this urge to merge onto those around us.

The true and rightful Other is our own soul, which is also desirous of relationship. That living and vital connection is what is so poignantly missing. Many of us seek to merge with Other through indiscrimate "bonding" with other people. Yet this strategy fails because other people can't feed us in the ways we really want and need. Codependant relationships tend to lack real intimacy and visibility. Unmet needs set the agenda.Unimaginative patterns tend to dominate interactions. We feel boxed in by life, or abandoned somehow. We often feel restless, anxious and inadequate. Something is missing.

What we are seeking is the respite and sustenance of one who loves us unconditionally. We measure our human and flawed relationships against a deeply held and largely unconscious "gold standard" and no one can measure up even for a few moments. Disappointment is inevitable. Beyond that we give away our personal energy and empowerment to another, and then blame them. This process requires some fancy foot work and we get all twisted and turned inside out. We forget our center and place enormous emphasis on the world outside and especially our primary relationships. We anticipate the reactions of other and change behaviors and identity accordingly. We suppress emotions others deem unacceptable. Slowly we forget who we are and what we came here to do, and feel and have.

We all self abandon in many ways. Awakening in Time provides penetrating insight into just how we do that. It offers sophisticated ways to process and integrate all that life brings us. This process results in greater intimacy with Self and greater visibility to Self. We feel warm and connected to a larger matrix. This then frees relationships to become healing and supportive. It attracts different people with kinder ways. Awakening in Time lights the way not only for those with extreme codependence issues, but for anyone seeking to penetrate the mystery of their own Self. It is a soulful book and provides a wealth of practical information. In my experience as an active life long seeker Jacquelyn Small stands out for several reasons, she knows about transformative processes intimately. She deeply understands and feels great compassion for the human condition. She is a master at creating and delivering guided imageries. So her guided imageries and inner journeys created for this book are first rate.

Jacquie has been my greatest influence in establishing my attitudes and approach to inner healing. She teaches us to trust Life. Her workshops are surpassed by no one.

.
Awakening in Time
The Journey from Codependence to Co-Creation
By Jacquelyn Small
Order # 0939344181
Book

.

Other books by Jacquelyn Small::

The Sacred Purpose of Being Human:
A Journey Through the 12 Principles of Wholeness
By Jacquelyn Small
Order # 0757303307
Book

.

Becoming a Practical Mystic
Creating Purpose for Our Spiritual Future
By Jacquelyn Small
Order # 0835607704
Book

Becoming Naturally Therapeutic
A Return to the True Essence of Healing
By Jacquelyn Small
Order # 0553348000
Book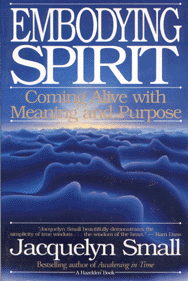 Embodying Spirit
Coming Alive with Meaning and Purpose
By Jacquelyn Small
Order # 400-004
Book


Psyche's Seeds:
The Twelve Sacred Principles of Soul-Based Psychology
By Jacquelyn Small
Order # 1585420964
Book


Rising to the Call
Healing Ourselves and Helping Others:
A Handbook for Evolving Souls
By Jacquelyn Small
Order # 0875167047
Book


By Jacquelyn Small

Order # 0875166733
Book


LightSeed.com "Seeding positive change."

Next


And, hey, if you feel inspired, drop me a line at Bobbi@LightSeed.com
Or write to me at LightSeed.com P.O. Box 695 Griswold CT 06351
It's always good to hear from fellow online seekers, healers and explorers.
Ordering Call Toll-Free 1.888.407.8456