Self Empowerment Center
WELCOME TO

Tools @ LightSeed.com

LightSeed.com
>
Self-Empowerment Center
>
Tools
> Resperate
RESPeRATE

Intercure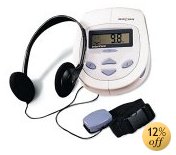 Introducing RESPeRATE, the interactive breathing device used by thousands
of men and woman nationwide to gain control over high blood pressure.
Used for just 15 minutes a few times a week, RESPeRATE delivers a
significant all-day blood pressure reduction.
The Power to Lower Blood Pressure

Proven in Seven Clinical Trials
Within 4 to 6 weeks of use, a significant, all day reduction in blood pressure can be achieved.
it in action

RESPeRATE is a portable, computerized electronic device that guides you through sessions of interactive, therapeutic breathing powerful enough to lower blood pressure.

Using a breathing sensor, RESPeRATE automatically analyzes your individual breathing pattern and creates a personalized melody composed of two distinct inhale and exhale guiding tones, delivered through comfortable earphones.

Simply listen to the melody through the headphones and synchronize your breathing to the tones. By prolonging the exhalation tone RESPeRATE guides you to slow your breathing and reach the "therapeutic zone" of less than 10 breaths per minute.

The physiological result? The muscles surrounding the small blood vessels in your body dilate, and relax. Blood is allowed to flow more freely, and pressure is directly, significantly lowered.

Breathing with RESPeRATE makes the difference
Scientific evidence has shown that structured therapeutic breathing, if performed without an effort or particular concentration, can significantly lower your blood pressure. However, these effortless therapeutic breathing sessions are difficult to perform on your own without years of training or continuous, individualized coaching. That is why RESPeRATE was developed.

Has zero side effects other than relaxation
Includes: RESPeRATE device, respiration sensor, headphones, user manual, instructional video and 4 AA batteries
Clinically proven to lower blood pressure within weeks
A device, not a drug
Doctor Recommended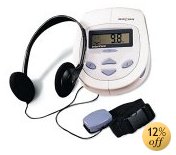 RESPeRATE

Intercure
Order # B0007NOY3E


Previous

LightSeed.com "Seeding positive change."

Next

And, hey, if you feel inspired, drop me a line at Bobbi@LightSeed.com
Or write to me at LightSeed.com P.O. Box 695 Griswold CT 06351
It's always good to hear from fellow online seekers, healers and explorers.
Ordering Call Toll-Free 1.888.407.8456
Copyright and Notice © 1999 - 2006 LightSeed.com All rights reserved Privacy Rights