Self Empowerment Center
WELCOME TO

Tapes @ LightSeed.com


LightSeed.com > Self-Empowerment Center > Tapes > Marianne Williamson Live
Marianne Williamson Live
Lectures Based on A Course in Miracles
by Marianne Williamson
Marianne Williamson is an authentic voice for love. She makes subjects feel new and full of meaning. The first time I was exposed to her was years ago and I could feel something waking up and shifting in my heart. The process unfolded for days after that. That is why I was quick to purchase this six tape series.

Subjects she illuminates and deepens are:

Success in the world
Giving up failure
The meaning of money
Money spiritualized
Listening with love
Excellence in communication
Loving yourself
Emotional self sufficiency
Romantic delusions
Friendship
What is love?
Love without an agenda

Her style is fun as well as enlightening. She draws heavily from her own life and shares her authentic self. It is easy to see why Marianne Williamson is such a favorite of so many people!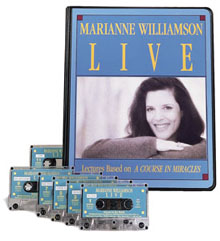 Marianne Williamson Live
Lectures Based on A Course In Miracles
by Marianne Williamson
Order # 10690


And, hey, if you feel inspired, drop me a line at Bobbi@LightSeed.com
Or write to me at LightSeed.com P.O. Box 695 Griswold CT 06351
It's always good to hear from fellow online seekers, healers and explorers.
Ordering Call Toll-Free 1.888.407.8456